Teleprompters – The secret to becoming a star presenter
Presentations are more impactful when a speaker is speaking from the heart, from memory, or from minimal notes. But what if you have to read an entire speech or part of a script? Are there any tools available that can help you to deliver a successful presentation without looking down at your notes?
Perhaps the topic is too delicate to ad-lib, or perhaps you weren't given adequate time to practice thoroughly and rehearse your lines. Whenever you must read from a script there are several things you can do to make yourself appear as a professional speaker… The secret to this is to only talk when your eyes are raised from the text.
A teleprompter will help you face your audience (or the camera), allowing you to simultaneously look up and not miss any of your scripts. This will help the presenter to achieve personal eye contact with the audience, without the need to commit the text to memory or look away at notes.
A teleprompter system consists of a camera, mirror and a monitor. The mirror is a reflective piece of glass that is positioned directly in front of the camera lens. A monitor remains under the mirror and displays a scrolling script which is promoted via the help of autocue software. The autocued text is displayed on the mirror, and a presenter can read the script in the mirror whilst looking directly at the camera right behind it.
Often we are asked the question; – How does the camera film a presenter if there is a mirror in front of it?
Well, the answer is that the mirror used in a teleprompter is partially transparent (like a two-way mirror used for security). These mirrors are not the kind of mirrors you want if you are looking for high-quality footage. You might reasonably think that the more you pay for your prompter, the better quality a mirror will be. Although usually a truism, there are brands that emphasise both quality and value for money.
A script is generally composed in text format and imported via software. With Leeventi Software, you can autocue yourtext, place a projection device in the teleprompter (Smartphone / Tablet), just mount a video recording device on the Leeventi teleprompter and you are ready to go.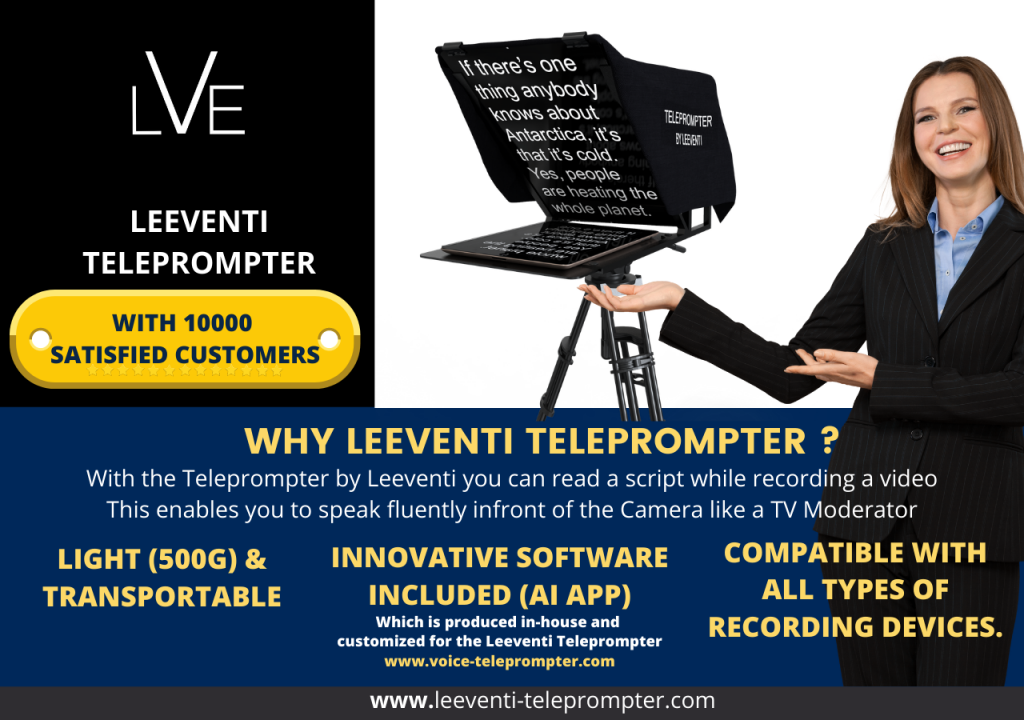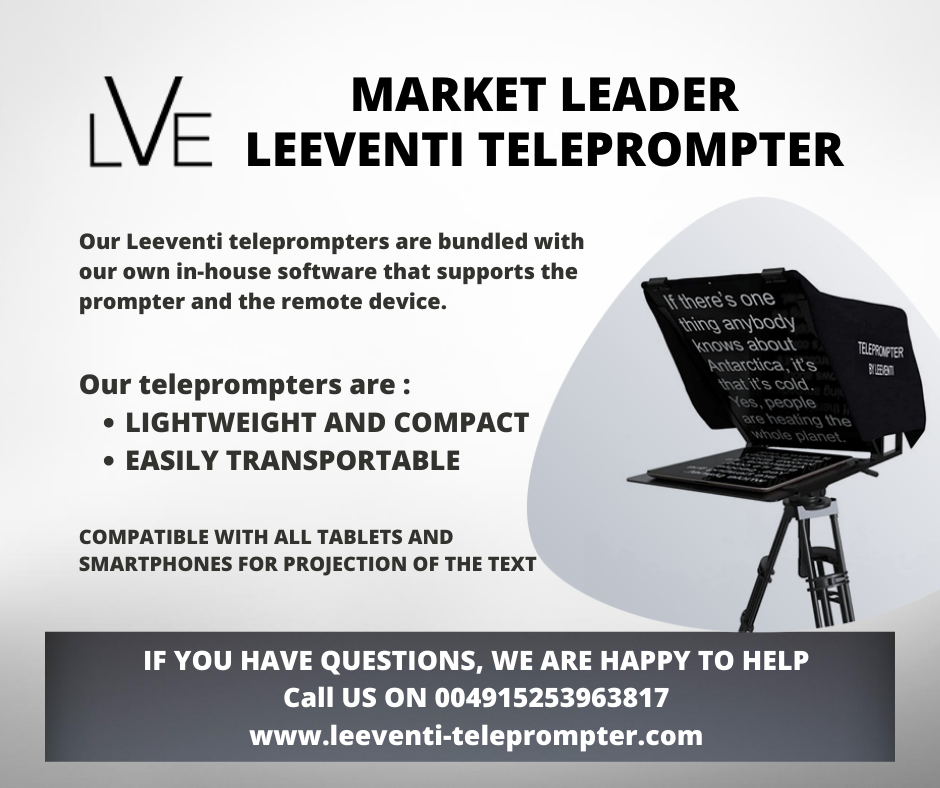 Industry Approved Teleprompters At Competitive Prices
A teleprompter is a device also referred to as an Autocue. This device plays a vital role in supporting a presenter by projecting a script onto a screen. Many aspects go into making a presentation appear flawless. A presenter must look confident, appear natural, and deliver their script clearly. Forgetting a line or two is common and can happen to even the most accomplished presenters, but with an Autocue forgetting lines is a thing of the past! Even with impromptu questions or distractions that might disturb your flow, the Autocue is always there to keep you on track, making it all appear seamless. As established, confidence is key for presenting, and having the knowledge that an Autocue is there for you, really helps to keep your confidence levels at their peak.
The text font that's displayed on an Autocue is large enough to be read from a considerable distance, and the remote control device is a fantastic tool for the user to have, granting complete control over the speed of the display. Whatever presentation role you have, you can rely on a teleprompter for an uninterrupted presentation.
Professions that use teleprompters include broadcasting studios, political parties, social media influencers, corporations and authorities – Basically anyone that needs to address an audience in a professional manner. Today, many more of us are working from home, with teachers and mentors frequently giving long presentations. Roles such as these can particularly benefit from the use of a teleprompter.
Leeventi teleprompters lead the market with their quality, design and affordability. They can project text with smartphone and tablet compatibility, and feature support for a range of recording devices. Our Leeventi teleprompters are bundled with our own in-house software that supports the prompter and the remote device. Our teleprompters are easily transportable, being lightweight and compact. They are supplied with a smartphone holder, and are custom made to fit any tripod available in the market.
With all their inherent features and benefits, you might be surprised to hear that Leeventi teleprompters are very competitively priced, with multiple packages available, plus the bundled software that is free to use for one year. The Leeventi Teleprompter is very user-friendly and is both easy to assemble and simple to use. Leeventi Teleprompters are a trusted and respected brand in the industry, place your trust in one today.